I had an idea pop in my head and had to try it out! I had a bunch of new Verve stamps that I got after Christmas, and haven't even had a chance to open 1/3 of them. I gathered up my supplies and this is what happened: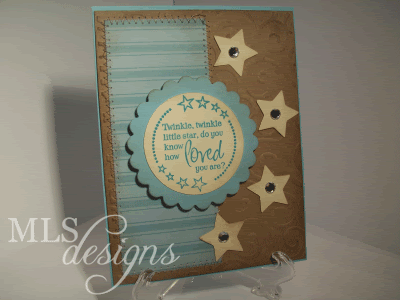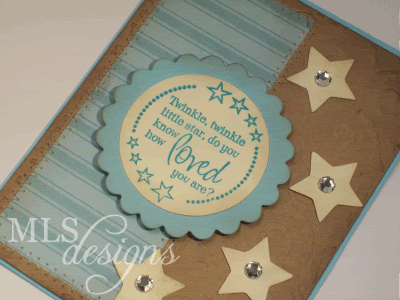 What do you think? I started with a Kraft base and embossed it with the Swirls embossing folder. Then I attached a strip of DP and zig-zag stitched all around it. My husband bought me a Cricut machine a couple of Valentine Days ago, so that's primarily what I use to cut out basic shapes. While I was cutting out a bunch of cream circles (it's nice to have extra) I decided to cut small stars out of the remainder of the paper. I then cut a scalloped circle out of solid CS with a Nestabilitie. I didn't plan on using the stars, but after I laid the card out I decided they were needed.
Thanks for stopping by!
WHAT I USED:
Paper: DCWV "Nana's Nursery-Baby Boy"
Stamps: Verve
Ink: Versa Color #20 Turquoise, Distressing Ink
Accessories: Adhesive-backed rhinestones
Tools: Cricut, Cuttlebug, Nestabilities, embossing folder