How "toot" is this sweetie?!? I went to Archivers yesterday (which is just about my Mecca of all places), just to "look around". I had no real intentions of buying anything... well... who am I kidding? I had EVERY intention of buying at least some Valentine papers. Archivers has started to carry some Nesties, so I was overjoyed to see that they had ONE package of Labels One left. I snatched that up real quick.
Then I wandered around the store at LEAST 3 times because I always feel like I've missed something. I already had some paper in my basket and then found the cutest endcap of Valentine stamp images...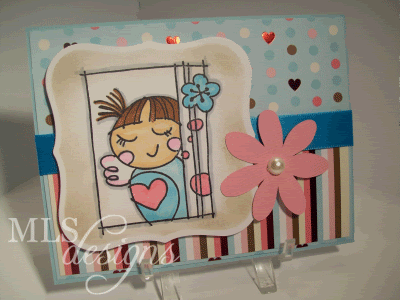 Isn't she adorable? Stampendous started selling well-priced clings exclusively for Archivers. This one is CRV191 Cling BlockArt Cutie. I couldn't pass her up for 4.99!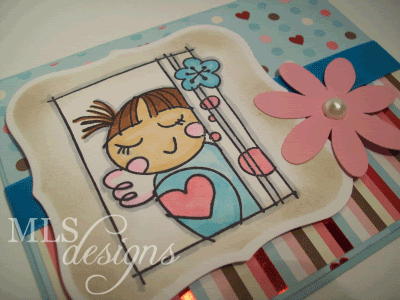 So tonight I finally got to create something with my new supplies. I stamped this cutie onto white CS, colored her with copics and then cut out with my new Nestie. I even practiced what seems to be the latest "it" thing to do with the colored BG while the image is still in the Nestie. I need to practice MORE too LOL.
I added 2 coordinating DP from KI Memories to plain CS, wrapped some satin ribbon around the card, then popped on a flower made from my Cricut machine left over from a previous project. I feel pretty darned satisfied :)
Thanks for stopping by and sharing part of your day with me!
WHAT I USED:
Paper: 4428 Heartbeat Infatuation, 4431 Heartbeat Darling Stripe (KI Memories)
Stamps: BlockArt Cutie (Stampendous)
Ink: Memento Black
Accessories: Satin ribbon, adhesive-backed pearl
Tools: Copic markers, Nestabilities, Cuttlebug, Cricut