I've taken a break from creating cards to do some sewing. That's always been my problem... I love doing ALL kinds of crafts and never have enough time OR room to take them all on LOL. So I've cleared my dining room table from beautiful papers so I can focus on cranking out some purses. Here's the first one I've created: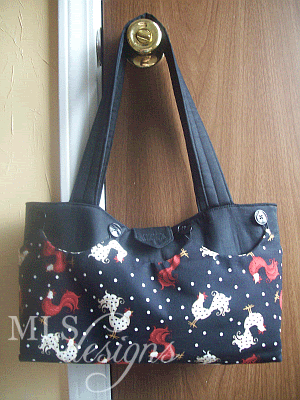 I just LOVE this! I started with a black base (because sooooo many things can go with black) and made this purse which measures 7.5" H x 13.0" W. It's a pretty decent sized purse! The fabric is a basic cotton that has a bit of a sheen to it. It's also lined with the same fabric and has 3 pockets for storing small items. Black buttons are sewn around the top edge to hold the wrap.
The wrap has a scalloped edge with black elastic cord at the peaks. Easy peasy the wrap attachs to the purse! I cannot wait to make more wraps to go with this basic black purse.
WHAT I USED:
Pattern: Simplicity 2676
Fabric, buttons, interfacing and fleece purchased from Hancock Fabrics